The Four Plus Three album is now out on vinyl! It's available from RaysJazz@Foyles


Watch a promo video about Four Plus Three
here
"A sumptuous jazz piano trio plus string quartet set from the consistently thoughtful and inventive Kate Williams
."
Chris Ingham, Mojo ****
"..crisp, incisive and totally at one with the rhythmic ebb and flow."

The Observer ****


"…An album full of delights."
Peter Bacon


"
It was one of those rare concerts you wished would not end."
Jazz Breakfast

Buy CD from:

Jazzcds.co.uk
Cdbaby

RaysJazz@Foyles

Amazon
Bandcamp


Downloads available from:

Bandcamp
Cdbaby
Amazon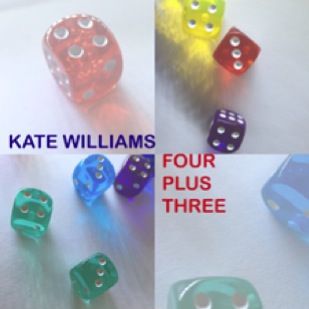 Featuring:
Kate Williams - piano
Oli Hayhurst - double bass
David Ingamells - drums
John Garner - violin
Marie Schreer - violin
Miguel Rodriguez - viola
Sergio Serra - cello


Kate Williams' Four Plus Three
is a new collaboration between acclaimed jazz pianist/composer Kate Williams and the Guastalla string quartet.
Kate first met violinists John Garner and Marie Schreer, the co-leaders of the quartet, whilst working on Bill Evans And The Impressionists at the 2014 Guildhall Jazz Festival. The programme featured works by piano legend Bill Evans which Williams arranged for her jazz trio and full orchestra.
The repertoire for this new project includes material by Bill Evans, Cole Porter and A.C. Jobim as well as originals by Williams. The style of writing and arranging exploits the varied sound pallet of both string quartet and jazz trio, creating contrasts between the improvised and the notated, and between sustained textures and strong grooves. As with her previous arranging ventures, Kate is seeking a fully integrated approach (this is definitely not a jazz trio with string accompaniment!), as this line-up provides a wealth of interesting instrumental sonorities.


"The Three are pianist Kate Williams, double bassist Oli Hayhurst and drummer David Ingamells; the Four are violinists John Garner and Marie Schreer, viola player Miguel Rodriguez and cellist Sergio Serra, better known as the Guastalla String Quartet. So, a piano trio album with strings, you're thinking? Oh no, as Williams would be quick to correct you, her arrangements – of mainly her own compositions but also of jazz standards – intertwine the Three and Four in creative and often innovatively different ways, not only from track to track but even within individual pieces. And there's not a cliché to be heard. So, on the opener, Love For Sale, we first get the strings alone behaving just as a string quartet might, then as cushioning support for double bass, then the trio takes over, then the strings come in with such attack I thought for an instant a horn section had been magicked up. Jobim's Portrait In Black And White gets the most sinuous of treatments, while Williams' Eleven Tonal has a stern edge in amongst the swing. The two Bill Evans songs – B Minor Waltz and Walkin' Up – are exquisitely realised, and strongly contrasting too, the former, which Williams leaves entirely to the bass and strings, as lyrical and luxuriating in its light melancholy as a Spring rain shower, the latter a feature for the plucked strings both in front of brushed drums and behind the piano solo. Big Shoes has some great interplay between low piano and high strings, and the leader's solos are a joy throughout, so well constructed yet so naturally felt. Twilight's Last Blink has a marvellously atmospheric, and quite dramatic, ending. An album full of delights."
Review by Peter Bacon, The Jazz Breakfast, May 2016

"In the intimate setting of the Red Lion, the glorious richness of the strings enveloped the listener, blending superbly with the warmth of Kate's Bill Evans-inspired piano and the subtle drive of Hayhurst and Ingamells. It was one of those rare concerts you wished would not end.

The influence of Bill Evans ran like a thread through the performance, including his compositions B minor Waltz and Walking Up, but Kate's own creations Eleven Tonal, with its unusual harmonic twists, and Storm Before Calm, featuring stabbing staccato strings and swirling piano arpeggios, were enormously impressive. There was a beautiful cello solo from Sergio Serra on Antonio Carlos Jobim's Portrait In Black And White, and perfect pizzicato melody work from violinists John Garner and Marie Schreer plus viola player Miguel Angel Rodriguez Olivera on Walking Up, and expressive solo bass from Hayhurst on B minor Waltz. Glorious music."
Live review by John Watson at Birmingham Jazz Legends Festival, 21st May 2016


The Guastalla Quartet
is a chamber music group dedicated to the exploration of the string quartet repertoire, from its roots to as-of-yet unwritten works.
Formed in 2013, The Guastalla Quartet brings together Swiss, German and English musicians from three of the finest conservatoires in Europe. Boasting an impressive wealth of experience, between them they have: performed at world-famous venues including the Royal Albert Hall, Wigmore Hall, Konzerthaus Berlin, Teatro Teresa Carreño (Caracas), Katara Opera House and the National Concert Hall of Taiwan; recorded at major studios including Abbey Road Studios, Konk Studios, Air Edel and Paul Epworth's studio; been mentored by internationally renowned artists such as the Chilingirian Quartet, Heime Müller, Ivry Gitlis, the Coull Quartet and Alina Ibragimova.
After a sell-out début concert with Steve Reich's Different Trains at the acclaimed series From The Soundhouse, they returned to the concert platform to give one of the first performances of Jonathan Harvey's String Quartet No. 4, with electronics maestro Michael Oliva.
2014 proved fruitful with studio recordings of Beethoven, Shostakovich, Milhaud and Dvořák, a mini-tour of Switzerland and Germany funded by supporters of the group, a return to the From The Soundhouse series with Saariaho's Nymphea, and a residency at Norwich Chamber Music Festival.
Recently, the quartet was invited to collaborate with dancers Verena Schneider and Gordon Raeburn on a new and immersive project called Spun Through Shadows. Conceptualized and created by composer Cameron Michael Graham, choreographer Thea Stanton and sound/lighting designer Oliver Doyle, performances took place from December to March culminating in a double-bill at The Royal Academy of Arts.'