Contact:
www.katewilliams.bandcamp.com
"A sumptuous jazz piano trio plus string quartet set from the consistently thoughtful and inventive Kate Williams
."
Chris Ingham, Mojo ****
"..crisp, incisive and totally at one with the rhythmic ebb and flow."
The Observer ****

"…An album full of delights."
Peter Bacon

"
It was one of those rare concerts you wished would not end."
Jazz Breakfast

(read full reviews on media page)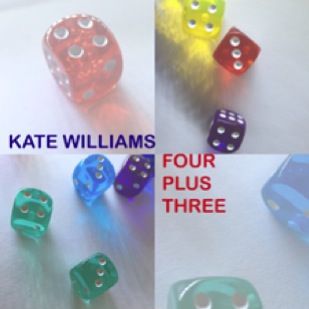 Buy CD from:

Jazzcds.co.uk

RaysJazz@Foyles (vinyl edition available!)

Amazon
Bandcamp


Downloads available from:

Bandcamp
Amazon
Kate Williams' Four Plus Three
is a collaboration between acclaimed jazz pianist/composer Kate Williams and the Guastalla string quartet. It was launched in spring 2016 with a short UK tour and support from Arts Council England.
The band received support for the recording from The Ambache Charitable Trust
which is active in raising the profile of women composers
.

Kate first met violinists John Garner and Marie Schreer, the co-leaders of the quartet, whilst working on Bill Evans And The Impressionists at the 2014 Guildhall Jazz Festival. The programme featured works by piano legend Bill Evans which Williams arranged for her jazz trio and full orchestra.
The repertoire for this project includes material by Bill Evans, Cole Porter and A.C. Jobim as well as originals by Williams. The style of writing and arranging exploits the varied sound pallet of both string quartet and jazz trio, creating contrasts between the improvised and the notated, and between sustained textures and strong grooves. As with her previous arranging ventures, Kate is seeking a fully integrated approach (this is definitely not a jazz trio with string accompaniment!), as this line-up provides a wealth of interesting instrumental sonorities.

Line-up:
Kate Williams - piano
Oli Hayhurst - double bass
David Ingamells - drums
John Garner - violin
Marie Schreer - violin
Francis Gallagher - viola
Sergio Serra - cello

In November 2016 at the 606 Club, the line-up was expanded to include special guests flautist Gareth Lockrane and guitarist Mike Outram as part of the London Jazz Festival. Four Plus Three returned to the 606 Club in June 2017 for a performance featuring special guest John Williams on guitar.

Kate continues her longstanding musical partnership with award-winning vocalist/lyricist Georgia Mancio:
Finding Home:
Kate Williams'
Four Plus Three
meets Georgia Mancio was premiered
on 6th October 2017 at the Pizza Express Jazz Club in London. Read the full Guardian review
here
. The CD Finding Home was released in summer 2019 coinciding with a 14-date UK tour which received support from Arts Council England.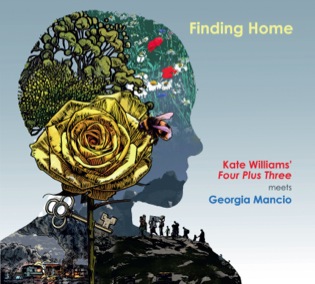 The Guastalla Quartet
i
s a chamber music group dedicated to the exploration of the string quartet repertoire, from its roots to as-of-yet unwritten works.
Formed in 2013, The Guastalla Quartet brings together Swiss, German and English musicians from three of the finest conservatoires in Europe. Boasting an impressive wealth of experience, between them they have: performed at world-famous venues including the Royal Albert Hall, Wigmore Hall, Konzerthaus Berlin, Teatro Teresa Carreño (Caracas), Katara Opera House and the National Concert Hall of Taiwan; recorded at major studios including Abbey Road Studios, Konk Studios, Air Edel and Paul Epworth's studio; been mentored by internationally renowned artists such as the Chilingirian Quartet, Heime Müller, Ivry Gitlis, the Coull Quartet and Alina Ibragimova.
After a sell-out début concert with Steve Reich's Different Trains at the acclaimed series From The Soundhouse, they returned to the concert platform to give one of the first performances of Jonathan Harvey's String Quartet No. 4, with electronics maestro Michael Oliva.
2014 proved fruitful with studio recordings of Beethoven, Shostakovich, Milhaud and Dvořák, a mini-tour of Switzerland and Germany funded by supporters of the group, a return to the From The Soundhouse series with Saariaho's Nymphea, and a residency at Norwich Chamber Music Festival.
Recently, the quartet was invited to collaborate with dancers Verena Schneider and Gordon Raeburn on a new and immersive project called Spun Through Shadows. Conceptualized and created by composer Cameron Michael Graham, choreographer Thea Stanton and sound/lighting designer Oliver Doyle, performances took place from December to March culminating in a double-bill at The Royal Academy of Arts.'