October 2017


New project 'Finding Home' with Georgia Mancio and Four Plus Three was launched on 6th October at Pizza Express.

"a triumph of integrity and classy musicality"
The Guardian****

Read the full review
here

photo by Dave Ohm



August 2017


23rd August, Chichester International Film Festival: A Tribute: The Life And Work Of Bobby Wellins 1936 - 2016.
Screening of documentary Dreams Are Free at 8pm, followed by band featuring Claire Martin and Art Themen.
More details
here


31st August
Kate Williams Trio at Jazz Nursery
Details
here


Coming up on October 6th (early show) at Pizza Express is the start of a very special collaboration between Four Plus Three and Georgia Mancio.
This is part of
Georgia Mancio's Hang
.


"Georgia continues her longstanding musical partnership with composer/pianist
Kate Williams
and her acclaimed
Four Plus Three
project. They present a collection of songs, old and newly co-written, arranged for trio, string quartet and voice, linked by the concept of finding home. Tonight is the world premiere of this striking concept piece."
For more info and tickets, click
here
May 2017


My two most recent CDs are now available from Bandcamp:
www.katewilliams.bandcamp.com



January 2017


The Four Plus Three album is number 2. in Mojo magazine's top ten jazz albums of 2016
Tickets are now available for Four Plus Three at Pizza Express, Dean St, Monday 16th January:
Book
here



December 2016


The Four Plus Three album is now out on vinyl! It's available from RaysJazz@Foyles

Tickets are now available for Four Plus Three at Pizza Express, Dean St, Monday 16th January 2017:
Book
here



September 2016


Very pleased to be at the 606 on 15th November as part of the EFG London Jazz Festival. It'll be Four Plus Three with special guest Gareth Lockrane. (Gareth and I will both be writing new arrangements specially for the occassion).



July 2016


We had a great response to the first Four Plus Three tour. A big thank you to Arts Council England, The Ambache Charitable Trust, Birmingham Jazz, Watermill Jazz, 606 Club, Leicester Jazz, TW12 Jazz Festival and to everyone who came to hear us.



June 2016


The Four Plus Three CD is now available from:

Jazzcds.co.uk
Cdbaby

RaysJazz@Foyles

Amazon


Downloads available from:

Cdbaby
Amazon


See
Press page
for latest reviews



MAY 2016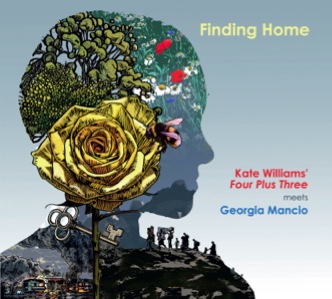 Have had a great response following Four Plus Three's first gig at Birmingham Jazz Legends Festival on 21st May.
Click here to read
Peter Bacon's review of the album
.

Click here to read
John Watson's review of the gig
.



APRIL 2016


The Four Plus Three Tour and CD release is imminent! I'm very grateful for the support of Arts Council England and the Ambache Charitable Trust.
The tour starts on 21st May in Birmingham. The CD is due for release in June.
Click below to hear a few excerpts from the album:


LoveForSale
(Cole Porter)

StormBeforeCalm
(Williams)

Walkin'Up
(Bill Evans)

ElevenTonal
(Williams)


February 2016


I'm very happy to be part of this recording of superb compositions and arrangements by Pete Hurt.
The band features:
Tori Freestone - soprano/flute
Martin Hathaway -alto/flute
Josephine Davis - tenor/clarinet
Mick Foster - baritone/bass clarinet
Jim Rattigan - french horn
Noel Langley, Robbie Robson, Henry Lowther - trumpets
Nick Mills, Owen Dawson - trombones
Richard Henry - bass trombone
Dave Powell - tuba
Nick Costley-White - guitar
Mick Hutton - double bass
Jon Scott - drums
Pete Hurt - conducting/tenor solo

It's available now from:

Trio Records



January 2016


Had a great time recording with Four Plus Three this month. The CD is well on the way, and it will be launched at the 606 Club on June the 8th.


November 2015

Looking forward to recording with Four Plus Three in January 2016. This new project will be launched in summer 2016 alongside our first CD. So far, we have dates in Birmingham, Dorking, Leicester, and Twickenham, with more in the pipeline. Watch this space for further developments.


August 2015

Am very pleased to announce the start of my new project
Four Plus Three
featuring my trio and
The Guastalla Quartet
. Watch this space for news of dates in 2016.

'This is a new collaboration between jazz pianist/composer Kate Williams and The Guastalla Quartet. Kate first met violinists John Garner and Marie Schreer whilst working on 'Bill Evans And The Impressionists' at the 2014 Guildhall Jazz Festival. The programme featured works by piano legend Bill Evans which Williams arranged for her jazz trio and full orchestra. The repertoire for Four Plus Three includes classics by A.C. Jobim, Cole Porter, and Bill Evans, as well as originals written especially for this line up. The style of writing and arranging exploits the varied sound pallet of both string quartet and jazz trio, creating contrasts between the improvised and the notated, and between sustained textures and strong grooves. As with her previous arranging ventures, Kate is seeking a fully integrated approach (this is definitely not a jazz trio with string accompaniment!), as this line-up provides a wealth of interesting instrumental sonorities.'


Featuring:
Kate Williams - piano
Oli Hayhurst - double bass
David Ingamells - drums
John Garner - violin
Marie Schreer - violin
Miguel Angel Rodriguez- viola
Sergio Serra - cello




Spring 2015
A couple more good reviews for Atlas & Vulcana:


"Kate confirms her status as one of our top piano improvisers...a welcome addition to her portfolio of prime British jazz."

Musician, Spring 2015


" Williams marches on as both composer and performer..."

Jazzwise, February 2015. ****

See press page for full reviews


November 2014


Atlas & Vulcana released 13th November 2014:

"Atlas & Vulcana is about excellent writing, naturally creative arranging and first-rate players."

London Jazz News, November 2014



"Kate Williams has a quality rare among jazz composers: a musical vocabulary that's all her own....her originality extends to the unfailingly apt orchestration. On Moonset, the slowly changing textures are gorgeous."

Dave Gelly, The Observer, 30th November 2014



" British pianist/composer Kate Williams makes the kind of jazz albums few younger players attempt these days, let alone pull off with such aplomb – full of graceful storytelling themes and uptempo swing, delicate piano breaks glowing with a Bill Evans hue, bebop horn solos over nimble walking grooves. This is an elegant set of originals for her classy septet, including the flute virtuoso Gareth Lockrane and powerful tenor saxist Alex Garnett."
John Fordham, The Guardian, 7th November 2014

CD available from:

jazzcds.co.uk
raysjazz@foyles

amazon
i-tunes

cdbaby.com
jazzhouserecords


For full reviews of CD, visit
press page.

To listen to clips, visit
music page

October 2014


The new CD is here... it will be available from 13th November through all the usual outlets. Details and soundclips to follow soon....

September 2014


The new CD is nearly ready:
Atlas And Vulcana
features music for trio, quartet and septet. On this recording I am joined by Gareth Lockrane (flutes), Steve Fishwick (trumptet/flugelhorn), Alex Garnett (tenor), Tom White (trombone), Oli Hayhurst (double bass), Tristan Mailliot/Matt Fishwick (drums).
It will be released on
November 13th at the 606 Club
,
90 Lots Rd, London SW10 0QD tel 020 7352 5953
www.606club.co.uk


July 2014


After a great tour with quartet and septet, we recorded the new material for a forthcoming CD. It'll be released by the end of the year, so watch this space.....



April 2014


Thanks to everyone who helped make Interplay Series 'Bill Evans And The Impressionists' such a success. For more information about future dates, recent photos and reviews, visit
www.interplayseries.com


Spring tour for my band starts on 11th April in Lincoln (see Forthcoming Dates for details).

I'm very grateful for support from
The Ambache Charitable Trust
which is active in raising the profile of music by women composers.

Am looking forward to recording new CD in June/July.




January 2014


I'm very pleased to be part of the Interplay Series 'Bill Evans And The Impressionists'.

The first concert is on
9th March 2014 at 2.30pm at Colston Hall, Bristol
at the
Bristol Jazz And Blues Festival
. The programme will include works by Ravel and Debussy (performed by the Bristol Ensemble, conducted by William Goodchild), alongside arrangements of pieces by Bill Evans for my trio + orchestra.

The second concert is on
Monday 24th March 7.30pm at Milton Court Concert Hall
, London EC2Y 9BH (featuring my trio, Guildhall School Musicians, conducted by William Goodchild).
For more information, visit Forthcoming Dates page or click here:

www.interplayseries.com


Other news: I'll be touring my septet and quartet in spring/summer 2014 with support Jazz Services and Arts Council England.

See Forthcoming Dates page. More details to follow soon.
I'm very grateful for support from
The Ambache Charitable Trust
which is active in raising the profile of music by women composers.

July 2013


Looking forward to playing at
Highgate Jazz Festival
with Bobby Wellins, Bank Holiday Monday, 26th August, 1pm at Lauderdale House, Highgate Hill, London N6 5HG.

Should have news about a couple of exciting 2014 projects very soon ...



January 2013


I'm currently writing and arranging new material for the next CD to be recorded soon - watch this space!

In the meantime, here are a couple of gigs which I'm very much looking forward to...
On February 27th my trio will perform with award-winning composer/vocalist Christine Tobin at the Orange Tree in Richmond. Check
Forthcoming Dates
page for details.

March 26th will see a return visit to the Pizza Express Steinway 2-piano Festival for the duo with Nikki Iles. We are going to be sharing the stage with some amazing pianists: John Taylor/Richard Fairhurst duo, Janette Mason/Andrea Vicari duo. Check
Forthcoming Dates
page for details.



December 2012


'
Smoke And Mirrors
' was ranked number 6 in Mojo's best jazz albums of 2012
A big thank you to all the venues and audiences who helped make our autumn tour such a success. Thanks also to Jazz Services for touring support.
"A cracking quartet, each member threatening to steal the show with some thrilling moments but the strength of the writing meant the group sound was the enduring impression." ( from live review, Bebop Club, Bristol 4th Oct 2012)


July 2012


Dates announced for October/November 4et/7et tour, with more to follow. Check
Forthcoming Dates
page for details.


June 2012


New duo CD with Bobby Wellins
'Smoke And Mirrors'
is released on July 1st 2012


"This is simply 45 minutes of beautiful acoustic music from two talented players who are, without wishing to sound too clichéd, in perfect harmony." All About Jazz, June 2012
Available now from:

jazzcds.co.uk
raysjazz@foyles

harold moores records
broad street jazz, bath


March 2012


The septet was nominated for a Parliamentary Jazz Award 2012 (one of 3 bands in the ensemble of the year category)
The septet CD
Made Up
was ranked number 7 in Mojo's best jazz albums of 2011:

"Made Up is a striking summation and reflection of Kate Williams' singular gifts. With trio, quartet and quintet albums behind her, she stretches to a seven-piece for her fourth album and the expanded palette of sounds is a thrilling vehicle for her evolving and unusual musical imagination."
(Mojo ****)

"Cogent, lively and insinuatingly memorable, Made Up provides, in spades, further evidence of a considerable composing (and bandleading) talent."
(Chris Parker)


"Made Up was written for a septet featuring trumpeter Steve Fishwick, saxists Ben Somers and Julian Siegel, and fine jazz flautist Gareth Lockrane, and Williams displays a canny arranger's handling of this broad tonal palette. There are connections to classical and Latin music, and the "clouds of sound" manner of the Birth of the Cool, but Made Up also embraces fast-boppish intricacies, such as the brisk Stop and Chat." (The Guardian *** )

Made Up
is available from:

Jazzcds.co.uk
Cd Baby
Amazon
Harold Moore Records
Ray's Jazz@Foyles


Downloads available from:


itunes
Amazon
Cd Baby
May 2011

Thank you to all those who came to hear the septet at Pizza Express, and also to those who came to here me in duet with Nikki Iles as part of the Steinway 2-piano festival in April 2011

Click here to listen to my tune Pelagic
Click here to view quintet live at Pizza Express January 2010


More live clips coming soon.